Staff profiles
Dr João Florêncio
Senior Lecturer in History of Modern and Contemporary Art and Visual Culture
4334
01392 724334
I am a queer cultural theorist of the body rechearching visual cultures of sexuality, health and illness in relation to wider Western biopolitical, philosophical and technoscientific histories.
My monograph Bareback Porn, Porous Masculinities, Queer Futures: The Ethics of Becoming-Pig (Routledge, 2020) analyses contemporary gay "pig" masculinities, which have developed alongside antiretroviral therapies, online porn, and new sexualised patterns of recreational drug use. It examines them and their pornographic representations, speculating on their ethical and biopolitical dimensions in relation to modern European histories, ideologies and conceptualisations of the male body.
Book reviews:
The work of João Florêncio, therefore, contributes to a widening and greater understanding of our conventions of gender and sexuality. […] Fleeing from simplistic answers and solutions, the author demonstrates how much the relationships between these elements are often contradictiory and with recurrent dislocations, and that the "norm" and the "transgression" can even walk together, inhabiting the same practice (or the same desire). And this is the power of the liminal and frontier space, since it is in these fissures that lines of flight are presented, alternative paths can be taken and new world(s) are possible. [Victor Hugo de Souza Barreto, Norma: International Journal for Masculinities Studies 16(2)]
While facing significant criticism both from national cultures that prefer their gay men sexlessly monogamous and from gay leaders who view pig sex as self-indulgent backsliding, gay "pig" masculinities, as Florêncio terms them, have enabled forms of queer world-making that harbor a potential for ethical and political transformation. Far from idealistic, Florêncio is in fact well aware that gay pig masculinities are inextricable from a mode of modern biopower that operates at the level not just of bodies and populations but also of hormones and molecules. Still, as he passionately and often convincingly argues, it's in the pig's creative use of antiretroviral drugs, and not in the screeds of Larry Kramer or the white papers of Mayor Pete, that many gay men have found what HIV and the phobic politics it inspired threatened to deny them: a queerer path to the future. […]
While there are moments when Florêncio's book feels a little too familiar, there is much to be excited about, including a valuable framework and a useful set of conceptual tools with which to take porn studies and masculinity studies into the next decade. [Steven Ruszczycky, Postmodern Culture 31(3)]
***
I am currently working on a new book manuscript titled Crossings: Creative Ecologies of Cruising to be published with Rutgers University Press. Co-written with artist Liz Rosenfeld, it will be part autotheoretical speculation, part critical reflection, on the ethics, politics and ecologies of the (chiefly) gay male practice of cruising for sex.
My new research project entitled "The Europe that Gay Porn Built, 1945-2000" will map the enmeshment of politics, transnational solidarity, community and the erotic in gay pornographic magazines circulating in postwar Europe. The research will take place beween 2023 and 2027 and has been funded by the Arts and Humanities Research Council through their Standard Research Grants scheme.
At Exeter, I coordinate the Exeter Masculinities Research Unit, and I am a member of the Sexual Knowledge Research Unit and an affiliated researcher of the Centre for Medical History.
I am currently co-Director of Education and Student Experience for the Department of Languages, Cultures and Visual Studies.
You can follow me on Twitter.
Research interests
My interdisciplinary research explores the ways in which sexuality and the body have been contested terrains at the centre of modern and contemporary culture. Fundamental preoccupations of modern Western thought, they have been understood, shaped, represented, regulated, and commodified through a series of discursive and technological apparatuses that have reflected and continue to reflect broader ideologies of what constitutes the normal, the natural, the human, the moral, the healthy, the sick, the national, the common. On the other hand, their place at the centre of how we experience intimacy and kinship, have also been fundamental to how we think the nation-state, society, the polity, community. Yet, sexuality and the body have different and complex histories and are lived in a myriad of ways that are intersected by technology, discouse, power, mattter and systems of value. My work draws, among others, from queer studies, the medical humanities, media studies, and art history to better understand the ways in which our bodies and our sexualities have been both written into and written by modern and contemporary visual culture.
Awards, Grants, and Prizes
Membership of Professional Bodies
Performance Studies International
Association for Cultural Studies
Fellow of AdvanceHE
Research collaborations
Masculinity, Sex and Popular Culture (2019–21)
In 2019-21, I'm a member of the Steering Group of "Masculinity, Sex and Popular Culture," an AHRC-funded research network led by Professor John Mercer (Birmingham City University) and Professor Clarissa Smith (University of Sunderland), which connects academics, early career researchers and students as well as experts and commentators from outside academia to explore the issues and debates around contemporary masculinity, sex and sexuality in order to set an ambitious agenda for subsequent research.
Research supervision
I am open to discuss compelling research proposals on any topics broadly related to his research interests and expertise.
I am especially happy to consider working with candidates whose concerns intersect modern and contemporary visual culture with sexuality and gender studies and/or related fields of enquiry (e.g. porn studies, queer studies, critical drug studies, media studies, medical humanities, queer history).
Research students
I am currently involved in the supervision of the following research students:
Sascia Bailer: Radical Relations: Curating at the Intersection of Social Reproduction and Social Justice. AHRC-funded, co-supervised with Professor Dorothee Richter (University of Reading; ZHDK).
Chlöe Edwards: Listen Without Prejudice: Male Homosexuality in the Popular Music of Thatcher's Britain. Co-supervised with Dr Benedict Morrison (English).
Mie Al-Missned: Ritual Performativity in Transnational Networks of Contemporary Art: Adrian Piper, Shirin Neshat, Coco Fusco, Chengyao He, and Janine Antoni. Co-supervised with Professor Heike Roms (Drama).
Juanita Navarro Paez: Graphic Medicine and Shame: How and Why Do We Show (or Don't) Certain Shame Related Experiences Within the Healthcare Context Using Comics. Wellcome Trust-funded, co-supervised with Professor Luna Dolezal (Wellcome Centre for Cultures and Environments of Health).
Cecilia Neil-Smith: Androgyny and the Sea in Victorian Aestheticism. Co-supervised with Dr Patricia Zakreski (English).
Yandi Wang: Art in Translation: contemporary Chinese art in Chinese and English publications: a case study of the paintings of Xiao Gang Zhang, 1984-2014. Co-supervised with Dr Ting Guo (Modern Languages and Cultures).
I have supervised the following students to completion:
Catherine Gray: The Work of American Artist-Activist Photographer Dona Ann McAdams, 1979-2000. Co-supervised with Professor Regenia Gagnier (English). Completed 2021.
Peyker Özler: Queering Practices of Women's Temporality: A Reflection on the Selected Works of Elvira Dones, Valeria Parrella, Romana Petri and Simona Vinci. Exeter Global Excellence scholarship, co-supervised with Professor Danielle Hipkins (Modern Languages and Cultures). Completed 2022.
External impact and engagement
I believe academics have a duty to engage audiences beyond the so-called "ivory towers" of academia. Such dialogues will benefit academic work, institutions, and the various different communities and "ecologies" we inhabit.
As such, besides the media engagements below, my work has been featured in the catalogues of art exhibitions such as Field Static (Co-Prosperity Sphere, Chicago, 2012), Ghost Nature (Gallery 400, Chicago and La Box, Bourges, 2014), and the Venice International Performance Art Week.
Given my interest in collaborating with creative practitioners and exploring different modes of knowledge production and circulation, I have contributed work to various art and performance events, most recently the performance If/Then by Lisa Alexander and Hari Marini (Camden People's Theatre, September 2016; Royal Festival Hall, August 2017) and the online exhibition Institutional Garbage (Sector 2337, Chicago, September-December 2016). I have also co-devised a performance piece with Chicago-based artist and poet Devin King, entitled Of Things in Motion and Things at Rest, which we presented at ]performance s p a c e[ in London in October 2012, as part of Performance Matters' "Potentials of Performance."
Further to that, and within the scope of my AHRC-funded research network Rock/Body, I have curated an exhibition and performance programme featuring work by artists exploring the interfaces between the human body and the geologic (University of Exeter, September, 2016).
In 2020, as part of my AHRC Leadership Fellows project "Masculinity and the Ethics of Porosity in 'Post-AIDS' Gay Porn," and in collaboration with Rob Eagle (director), Rufai Ajala (cinematographer), Liz Rosenfeld (editor), Liam Byrne (composer), Dominic Deane (sound mixer), Jack Offord (colourist), and Ben Miller (assistant producer), I have produced a short experimental documentary film entitled OINK! exploring the contemporary gay male "pig" sexual imaginary. The film premiered in November 2020 at Fringe! Queer Film & Arts Festival, and was subsequently selected for screening at various international film festivals.
The film is available worldwide via institutional subscription or individual streaming here, as part of the Pleasure Shorts collection distributed by the Royal Anthropological Institute.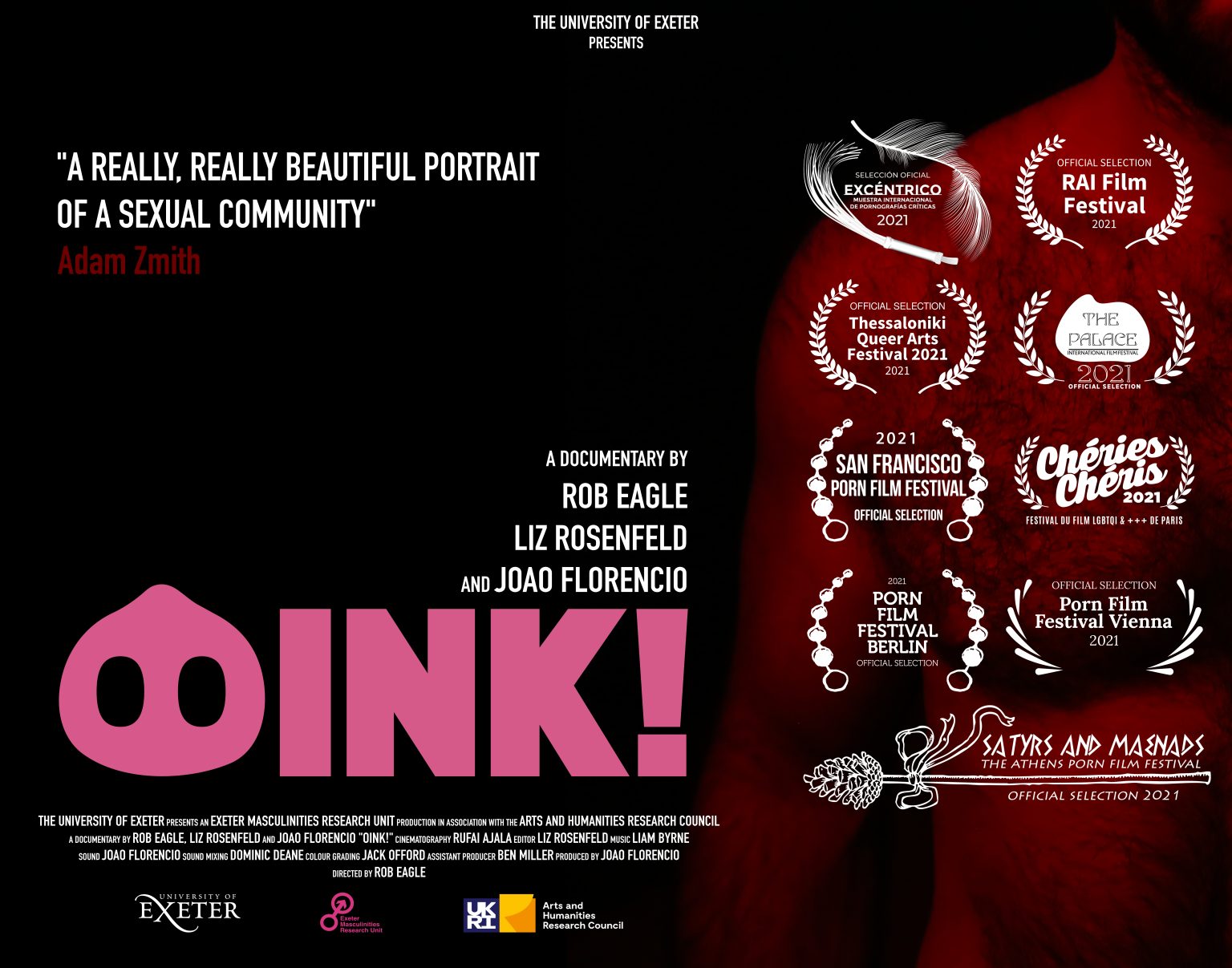 I regularly collaborate with non-academic partners, chiefly within LGBTQ+ communities, to programme and/or participate in events exploring queer bodies and sexual subcultures in relation to their histories, politics, and ethics. Most recently (Summer 2021), I co-programmed a two-day public event with Ben Miller (Freie Universität Berlin), which explored queer bodies and spaces as utopian topoi. The event was organised by the Berlin clubnight Cocktail d'Amore and funded by a grant from the Berlin Senate and Clubcommission. It included film and videoart screenings, DJ sets, talks and panel discussions on topics ranging from sex and community; queerness, race and gentrification; the histories of queer clubbing and utopia on the dancefloor; trans and technologies of gender; and sexualised drug use, harm-reduction and the production of queer selves.
I am a member of the Critical Friends of the Scwhules Museum, an international advisory board of academics, artists and curators tasked with advising Berlin's LGBTQ+ museum—and one of the world's foremost LGBTQ+ archives—with their strategic vision.
Contribution to discipline
Media
My latest media contributions include:
"Between Victories and Their Shortcomings: On Larry Kramer's Sexual Politics." (Los Angeles Review of Books, 26/07/2020)
"Grindr's HIV data problem began when it asked users to disclose their status." (The Conversation UK, 06/04/2018)
"Glass talks representations of HIV/AIDS in gay pornography with Dr Joao Florencio." (Glass, 03/04/2018)
"De choreografie van het ziek zijn" ["The chorepgraphy of being ill"] (Metropolis M, April 2017)
"Who needs another AIDS movie? The crisis isn't over." (The Conversation UK, 29/03/2017)
"Wolfgang Tillmans poignantly explores the role of photography today." (The Conversation UK, 01/03/2017)
"La tuerie d'Orlando, une attaque homophobe sans l'ombre d'un doute." (The Conversation France, 21/06/2016)
"Reduzir Orlando a um ataque terrorista é fechar os olhos à homofobia" (Interview with Portuguese newspaper Expresso, 19/06/2016)
Interview in the aftermath of the mass-shooting at Club Pulse, Orlando (Up All Night, BBC Radio 5 Live, 14/06/2016)
"Let's not get confused about this: Orlando was a queerphobic attack" (The Conversation UK, 13/06/2016)
"Chemsex: why is gay sex causing straight panic?" (The Conversation UK, 12/04/2016)
Teaching
Learning happens best when students feel respected, empowered, and responsible for their own learning. As such, I endorse a student-centred approach to learning and teaching. In other words, I always try to adapt my teaching to the interests and needs of my students whilst, nonetheless, never overlooking the intended course learning outcomes.
I think learning should be critical and transformative: not only should it provide students with academic knowledge and skills but it should also help individuals become independent thinkers that will go on to act in the world as informed, reflective, citizens.
My teaching tends to privilege a thematic or conceptual organisation rather than a chronological one. Such an approach allows students to challenge some misconceptions of history and to more easily follow visual and philosophical themes and tropes as they have circulated and been reinterpreted along multiple temporal and spatial axes.
Finally, whilst I work to maintain a high level of academic rigour in my classrooms, creativity and risk-taking are important tools in my approach to learning and teaching for they allow students to become daring thinkers and to question their preexisting beliefs and assumptions.
I hold a Postgraduate Certificate in Management of Learning and Teaching in Higher Education (Goldsmiths, 2012) and I'm a Fellow of the Higher Education Academy.
Modules taught
Biography
I hold an undergraduate degree in Musicology from the New University of Lisbon, an MA (Distinction) in Media Arts Philosophy and Practice from the University of Greenwich, and a PhD in Visual Cultures from Goldsmiths, University of London (funded by the FCT, the Portuguese research council).
Whilst at Goldsmiths, I was also an Associated Researcher of Performance Matters, an AHRC-funded research project coordinated by Goldsmiths, the Live Art Development Agency, and the University of Roehampton.
Before joining the University of Exeter as a full time lecturer in 2015, I held various visiting, associate, and part time lecturer positions at Goldsmiths, Central Saint Martins, Trinity Laban Conservatoire of Music and Dance, the City and Guilds of London Art School, and the University of Portsmouth.
In the past few years, I have collaborated with several artists, independent publishers, curators and galleries in various creative projects both in the UK and abroad.
I was a founding member of the Future Advisory Board of PSi - Performance Studies international (2015-2017) and subsequently on the Board of Directors of Performance Studies international in the role of Digital Communications Officer (2017-2021). I was External Examiner for the "Constellations" cross-programme theory module at the Cardiff School of Art and Design (2017-2021).
Since moving to Exeter, I have conducted peer-reviewing for the Arts and Humanities Research Council and the Norweggian Research Council, and I have reviewed book proposals for Routledge and Bloomsbury Academic, and articles submitted to the journals Subjectivity, Feminist Review, Performance Philosophy, GPS: Global Performance Studies, Porn Studies, Journal of Gender Studies, the Journal of Bodies, Sexualities, and Masculinities, and many others.